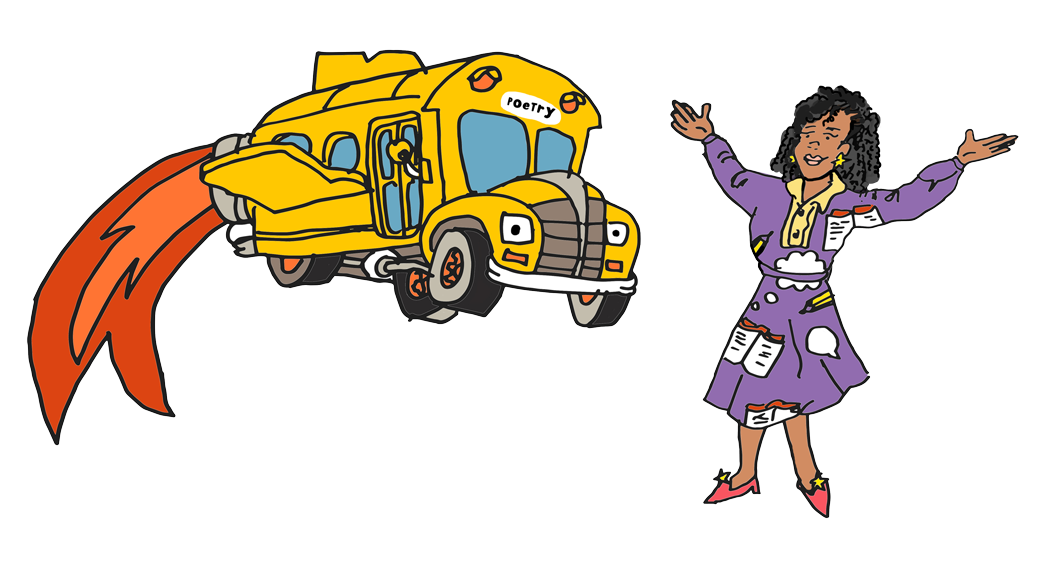 The Magic School of Poems
In this workshop, we explore spiritual dimensions and poem-making as magic. A poem can conjur, cast a spell, and move us into other realms of awareness.  Tapping into the ceremonial, celestial, and natural approach to poetry, we will study the shamanistic power of poems and performance. A poem can transform the storyteller and the witness into a collective incantation and sets intention. The power of voice, tone, and vibration in oral tradition is crucial to magic. This workshop is about naming, nurturing, and harnessing our energy; how to listen for the cosmos and mirror the vastness of universe. We will focus on exercises that center our purpose, ritual, and the craft of manifesting. Join the magic school bus of poetry.
Surrendering to the Metaphor:
Humanity fears the void, fears the inability to reconcile experience and communication. Through poetry, as a vehicle of traveling, we shall explore creative inhibitions and the human need to create meaning of experience, the importance of vibration, of sound, and the performing body. Metaphor is a spiritual way of decolonizing the imagination. We will focus on how detail and emotional observation can carry a poet into a realm of something utterly other and create connection. Let us begin with the things we can say and remember the ways we feel them.
Freed Between The Lines : 
 There are many untold stories people carry. Each story shapes who we are and how we imagine the world around us. Poetry is the practice of truth telling and has been integral to freedom movements. In this workshop, join Aja Monet in exercises and writing prompts that will awaken our ability to tell the truth about the stories that have silenced us and our relationship to power. The choice to write a poem in response to the times we are living in is a political choice, an action, and a contribution to the collective narrative. Language and how we use it is liberating. Let's get free.
The Shift: I Am She
In this workshop, we spend time with work by women writers and artists of the diaspora who raise necessary questions about the role of self in society and our many methods of survival: the governing of feelings and the politics of emotional labor. How must we engage with the systems of power in place so as to dismantle our perception of society? What is love and spirit? How has it been used by women of color in liberation movements in the United States and across the world? By using poetry to actively address issues central to our existence, we will address the politics of love, spirituality, and gender dynamics. We will read poems from Audre Lorde, June Jordan, Ntozake Shange, Sandra Cisneros, Alice Walker, Lucille Clifton, Trinh T. Minh-Ha, and Cherrie Moraga as well as looking at theoretical works. Reading and writing is necessary to overall success of the workshop.
Poetry for the People :
We will study and discuss poetry and its' role in social movements across the country and world. This workshop tackles state violence by providing space where those who find themselves silenced, stripped of their voice or ignored can reclaim their narratives in poetry. It does so in a way that does not reinforce victimhood but rather evokes power, as we seek to build a community of trust among participants who engage with each other as writers and comrades. The workshop will give participants an outlet to tell the story of now, an opportunity to chronicle events central to their lives as they happen, and a space to take shelter in even as traumatic, unjust or disruptive events happen in their outside lives.